Architects: Juan Melo, Camilo Delgadillo
Location: Bogota, Colombia
Client: Instituto Distrital de Turismo Bogotá + ETB
Construction: Consorcio Inmetsa
Project year: 2010
Photographs: Gustav Arvidsson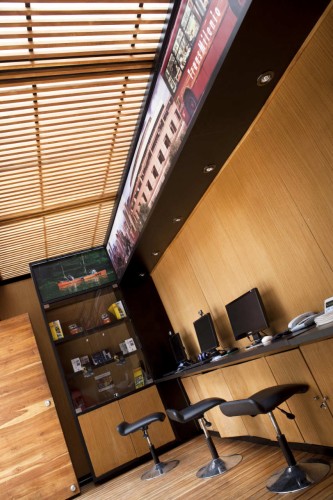 This project was designed as part of a series of tourist information spots owned by the IDT (Tourism District Institute) and constructed during the past two years, with the cooperation of several government agencies.
The new tourist information spots promoted by the city government are located in several locations within Bogotá and aim to provide information and communication services for both tourists and locals. Each spot is expected to hold several computers for internet access, telephones, an interactive screen and an information counter within a small area. In the two specific structures designed by Juan Melo and Camilo Delgadillo, outdoor spaces were chosen for their location, representing a special opportunity for exploring the relationship between interior and exterior.
The design concept relies on evaluating the specific conditions for each spot, thus avoiding the idea of a single universal design suitable for all locations. Through variation in their geometry, their section plan and internal distribution the structures are clearly integrated in their surroundings and take advantage of the outdoor space without becoming an obstacle.
The Chile Avenue structure was conceived as four modular pieces easily put together. The back wall and its surroundings called for a more introspective space. In the case of the Hacienda Santa Bárbara spot a thinner structure was required due to its reduced space lot. The outside vegetation is framed with a horizontal and continuous window and some explorations in its section plan were made, providing an escalated platform to create a higher contrast between the exterior and interior areas.
Although the spots do not respond to a serial design, standard materials and colors are used in order to unify their identity. Teak wood, steel and glass provide an easily adaptable sober and elegant composition. Both structures are required to be extremely open platforms while functioning and hermetic containers when closed. A sliding wooden pivot door system was developed permitting the required spatial transformation and creating a compact and uniform appearance when the container is closed.
These tourist information spots are an innovative urban mobiliary typology. Their highly accessible interior spaces invite pedestrians to make quick and comfortable informative stops.
* Location to be used only as a reference. It could indicate city/country but not exact address.
Cite: "Bogota Tourist Information Spots / Juan Melo, Camilo Delgadillo" 03 Jun 2011. ArchDaily. Accessed 07 Jul 2013. <http://www.archdaily.com/138549>